Immediate Family

Mother: Kristina Katarina born on 21 Sep 1853 - Maiden name: Bingström
Father: Handlanden Olof Nicklas Högbom born on 22 Dec 1862 in Lärbro, Gotland
Sister: Anna Lisa
Brother: Erik Ernst Olof
Wife: Cecilia Wiktoria Johnsson born 25 April 1887.
Daughters: Inga Viktoria born 22 May 1916 and Maj Margareta born 19 June 1919.

Karl was born 16 July 1888 in Stockholm, Sweden and died on 20 October 1918 in Tystberga, Nyköping, Sweden.


Notes about the Högbom Family from Gotland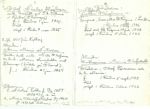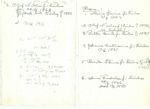 This is a copy of notes written down by hand. We do not know who wrote down the details. The shorthand entries are Karl's daughter Inga's handwriting.